Penn Interview Report Essay
Interviews
An Introduction to the Penn Interview
The interview is a two-way exchange between an alumni volunteer and an applicant. We encourage you to approach this opportunity as a conversation— it's a way for Penn to learn a little more about you, and for you to learn a little more about Penn.
Please review the following sections in order to be well-prepared for the experience.
Interview Policies
Logistics
The Conversation
What happens next?
Principles of Good Practice
Interview Policies
Applicants cannot request interviews.
Typically, more than 90% of Penn applicants are offered an alumni interview. Likewise, in the upcoming academic year, most applicants will be offered an interview, however, please do not worry if you are not offered an interview. The admissions committee will be aware of this fact, and it will not be held against you in our review.
Alumni interviews are offered to freshman applicants. This includes Early Decision and Regular Decision applicants, as well as QuestBridge Finalists. Interviews are typically not offered to Transfer applicants.
Interviews are offered by Penn alumni who serve as volunteers. Alumni interviewers are not admissions officers; however, they are excited to learn more about prospective Penn students and to share their Penn experiences. Volunteers receive in-person and/or virtual training.
Applicants will receive an interview on the basis of volunteer availability. Applicant names and contact information are provided to members of the Penn Alumni Interview Program, who will then contact students individually. There is no pre-screening of applicant files, and alumni volunteers do not have access to student applications.
If you receive an invitation for an alumni interview, we strongly encourage you to make time for this opportunity. If you need to decline the interview, please respond to your interviewer explaining why you cannot schedule this conversation. If you have any concerns about your specific circumstances as they relate to your interview, you may contact Penn Admissions, but please also follow up directly with your interviewer.
Interviews may be offered in-person or virtually. Penn Admissions evaluates both types of interviews equally. Please note that on-campus interviews are not available.
Logistics
Initial Contact: Alumni interviewers reach out to Early Decision applicants between mid-October and the last week of November. Interviewers reach out to Regular Decision applicants between December and February. QuestBridge Finalists are typically offered interviews in November. Interviews are not available by request. Please be patient and understand that an interview offer is likely, but not guaranteed.
Check the email account you provided on your application regularly, as this is the primary means for alumni to arrange an interview with you. Alumni interviewers may also contact you by the phone number listed on your application. Please respond promptly (within 3-5 days) and courteously: remember that this exchange will begin your conversation with your interviewer. If alumni interviewers do not receive a prompt response from an applicant, they may assume that you wish to decline the interview.
In the same way that we ask interviewers not to look up Penn applicants online, we ask that applicants not research their interviewers using Internet searches, or connect with them through social media. The Penn interview is designed to be a fresh conversation between two interested (and interesting) but previously unknown individuals.
Place: In-person interviews are conducted in public spaces, frequently coffee shops, offices, libraries, and schools. Make sure you are familiar with the location beforehand and leave extra time for potential delays. If you think you will be late, please let your interviewer know by phone. Virtual interviews are conducted via Skype, Google Hangout, other similar chat software, or by phone.
Dress: We recommend dressing as you would for a school photograph. A suit or formal attire is not expected.
What to Bring: Simply, we ask you to bring yourself. Please do not bring a resume or a portfolio. (Note that international applicants may be requested to bring additional documents.) Your passions, narrative, and questions will bring the conversation to life.
The Conversation
The interview is not a test; it is a way for you to share information about yourself in your own words. The conversation will focus on your interests, as well as your decision to apply to Penn. It's also an opportunity to learn more about the University. To be well-prepared for the interview, we encourage you to think about the following prompts:
· Tell me about yourself.
· What is important to you?
· What are your current academic and/or extracurricular interests?
· What led you to apply to Penn?
· What classes, programs, and activities are exciting to you on Penn's campus?
· What plans do you have for your future?
You will also be given an opportunity to ask your alumni interviewer questions. We encourage you to think about your questions beforehand; please feel free to write them down and bring them with you to the interview. Remember that Penn is a dynamic and ever-changing university—your interviewer may not be an expert on Penn today. Some sample questions you might ask (although we encourage you to think of your own questions as well!):
· Can you tell me about the most influential parts of your Penn experience?
· What is one of your favorite Penn traditions?
· Are you still in touch with your Penn peers?
· What are the advantages of the Penn alumni network?
A quick thank-you note is always appreciated! Remember that Penn interviewers are volunteers who do this work because they love Penn. Beyond a thank-you, no further contact with the interviewer is expected.
What happens next?
Your alumni interviewer will provide a write-up of your discussion to the admissions committee. This text will be added to the other components of your application. We find that interviews are generally positive and complement what we see in the rest of the application.
At some point after the interview, you may receive a survey asking you about your interview experience. This survey is optional, anonymous, and will not be shared with the Penn Admissions. The information will be used by the Penn Alumni Interview Program to continue to improve the process for all applicants, so please be honest when providing feedback!
Principles of Good Practice
You can review the Penn Alumni Interview Program Principles of Good Practice.
View Interview FAQs
From the Penn Admissions Blog
What Can You Expect from Your Penn Interview?
What would I say to prospective students about interviewing? After a while, you get the hang of it. Don't be too nervous, just be yourself, do show your passion, and don't over-prepare. To provide an even better idea of the Penn interview, I've asked two friends to share their experiences.
He that can compose himself, is wiser than he that can compose books.

Benjamin Franklin
THE GREAT SECRET of succeeding in conversation is to admire little, to hear much; always to distrust our own reason, and sometimes that of our friends; never to pretend to wit, but to make that of others appear as much as possibly we can; to hearken to what is said, and to answer to the purpose.

Benjamin Franklin
Applicant Homepage Keep tabs on your application status.
Applicant Homepage
Keep tabs on your application status.
Visit the Applicant Homepage to learn more.
Check your application status.
UPenn / Wharton Interview Report: Round 1 / Second-year student / On-campus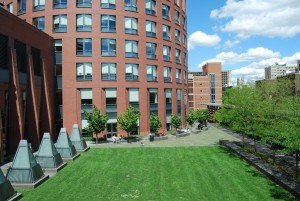 The following UPenn / Wharton interview report was submitted to Clear Admit by a Round 1 Health Care Management applicant who was admitted. Congratulations to them!

I was a Health Care Management (HCM) applicant and had two interviews: one with a second-year student, and one with the HCM director, June Kinney.
My student interview included the standard Wharton group interview and a brief one-on-one with the second-year after. The group interview was with ~six other applicants, with two second-year moderators/observers. We were emailed a prompt with our interview invitation (prompt: acting as a student at Wharton, plan a conference covering the topic of your choice); at the interview, we were tasked with picking one person's idea, forming the details around the conference, and presenting our proposal to our student observers.
Everyone was cordial and clearly on their best behavior, although I think there are a few strategies that tend to be most successful here (I have several friends at Wharton and have compared my experience to theirs):
1) the mostly silent observer – this saves you from being overly domineering or annoying, which you absolutely do not want – just occasionally offer supportive feedback to your teammates and come off as an all-around good guy; or
2) the leader – this is trickier, as you do NOT want to be too bossy, but there does tend to be one or two people per group that keep an eye on the time and make sure you end up with a deliverable to present by the deadline.
I chose the second route, because I didn't see my group finishing on time otherwise… you'll need to judge how your group is progressing and make a game-time decision. My advice is that first and foremost, this is a character test: do not be cocky, do not dominate the conversation, do not promote only your own ideas, etc. Common sense will save the day here. And, for what it's worth, I did very little prep on the prompt – all you need is a ~1 minute pitch, and if it sounds too rehearsed you will be labeled as the annoying candidate in your group (mine definitely had one). You'll also need a ~20 second intro (undergrad school, current job, city, etc). Go early and make friends in the waiting room; always good to have allies of course. My one-on-one with the second-year was very laid back. He asked me what I felt my role was in the group and to evaluate the group's performance. Then he mostly left it to me to ask a couple of questions, some small talk, and I was on my way. Very cool and very classically Wharton, in my view.
My HCM interview with June Kinney was very conversational – we spoke primarily about my career goals and experience at work thus far. I think June just wants to ensure that you've put some thought into why you're getting an MBA, why Wharton, and why HCM – career placement is very, very big here and you should have an idea of where you want to go and how to get there. Also a lot of small talk here – remember Penn is a social place and your EQ matters as well! Don't be thrown off by questions about what you do for fun, what your family is like, etc. June is wonderful and I genuinely enjoyed the conversation.
I was initially worried I may have been somewhat bossy during the group interview…but all in all, felt pretty good about the day. I was accepted with a scholarship.
---
Preparing for an upcoming interview at Wharton? Click here to get the Clear Admit Wharton Interview Guide.
After your interview, be sure to add your first-hand interview report to the Clear Admit Interview Archive.
Posted in: Interview Questions & Reports
Schools: UPenn / Wharton
Have an interview coming up?
Get the school-specific advice and strategy, a comprehensive list of sample questions, and in-depth analysis you need to ace your MBA interview.
Related